LIverpool Enslaved Memorial schools' Prize

How do we know there were enslaved people living in Liverpool in the 18th and early 19th Century?
Go to NEWS section of this website and select the sections Abell and Abell Remembered.
https://liverpoolenslaved.com/abell/
https://liverpoolenslaved.com/abell-remembered/
Parish records of Baptisms and Burials are particularly useful, for example the burials at St James, Church Toxteth.
https://www.findmypast.co.uk/blog/discoveries/toxteth-black-history.
 https://sites.rootsweb.com/~hibernia/baptisms/black_baptisms.html
 Newspapers are another good source – in the 18th Century for example, there were Williamson's Liverpool Advertiser, The Liverpool Chronicle, Gore's Liverpool General Advertiser, and at the beginning of the 19th Century, the Liverpool Courier and the  Liverpool Mercury
Newspapers carried adverts for slave auctions like this one:
The Liverpool General Advertiser, or the Commercial Register, Friday 2nd December 1768, p.2
To be sold by Auction,
On MONDAY next, the 5th instant December,
At Eleven o'Clock in the Forenoon;
At the House of Mr. WILLIAM STAINTON,
The Sign of the Custom-House, in Brooks's-Square,
A very handsome NEGRO BOY,
About 11 or 12 Years of Age;
And very suitable for a Gentleman's Family.
Enquire of the said Mr. Stainton.
Runaway slave adverts are another good source. You can find some examples in Glasgow University's database https://www.runaways.gla.ac.uk/database/table/ and type in Liverpool in the search and find, for example, this one: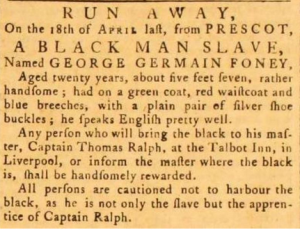 Liverpool Reading  
Ray Costello, Black Salt: Seafarers of African Descent on British Ships, Liverpool University Press, 2014.                                                                 
Anthony Tibbles Liverpool and the Slave Trade Liverpool, University of Liverpool University Press, 2018                                                           
Laurence Westgaph , 'Read the Signs'  https://historicengland.org.uk/research/inclusive-heritage/the-slave-trade-and-abolition/read-the-signs/
General Reading
Peter Fryer, Black People in the British Empire, London, 1988.

Peter Fryer, Staying Power: The History of Black People in Britain 1984,  London, 2010.
Gretchen Holbrook Gerzina, Black England, New Jersey: Rutgers University Press, 1995.
Gretchen Holbrook Gerzina, Black London: Life Before Emancipation 1995.                                                      
Norma Myers, Reconstructing the Black Past: Blacks in Britain, 1780-1830, 1996.
David Olusoga, Black and British: An untold story, United Kingdom: Macmillan, 2016.
Folarin O. Shyllon, Black Slaves in Britain,1974.   
James Walvin, The Black Presence: A Documentary History of the Negro in England, 1971.
Websites.
https://www.slavevoyages.org/voyage/database
https://www.ucl.ac.uk/lbs/search/
https://www.runaways.gla.ac.uk/database/table/
https://www.nationalarchives.gov.uk/education/resources/black-presence/
https://www.historytoday.com/archive/history-black-people-britain
Other media
Gore's Street Directory 1776 (start p31) https://specialcollections.le.ac.uk/digital/collection/p16445coll4/id/112486
Richard Brooks Liverpool As It Was During the Last Quarter of the 18th Century  https://play.google.com/books/reader?id=9cRPAAAAcAAJ&pg=GBS.PP6&hl=en
You Tube Slavery Histories – William Brown – National Museums Liverpool/Laurence Westgaph. https://www.youtube.com/results?search_query=laurence+westgaph+liverpool
You Tube Laurence Westgaph Slavery Tours https://www.eventbrite.co.uk/o/laurence-westgaph-30520850830
Questions you may ask
Are the places mentioned in the sources still standing – like places where slaves were sold?
Should they be remembered?
How could they be remembered?  
What do we know of the people mentioned in the sources?
Be aware you might meet words like 'Negro' which are not acceptable to use outside a historical context.